07/01/2015
Just lost Tiger, my loving friend and best model.
No words in this world could express my feeling now.
Oh, Tiger, I miss you so much!! The only comfort I have is knowing that you are in a better place and I will see you again!!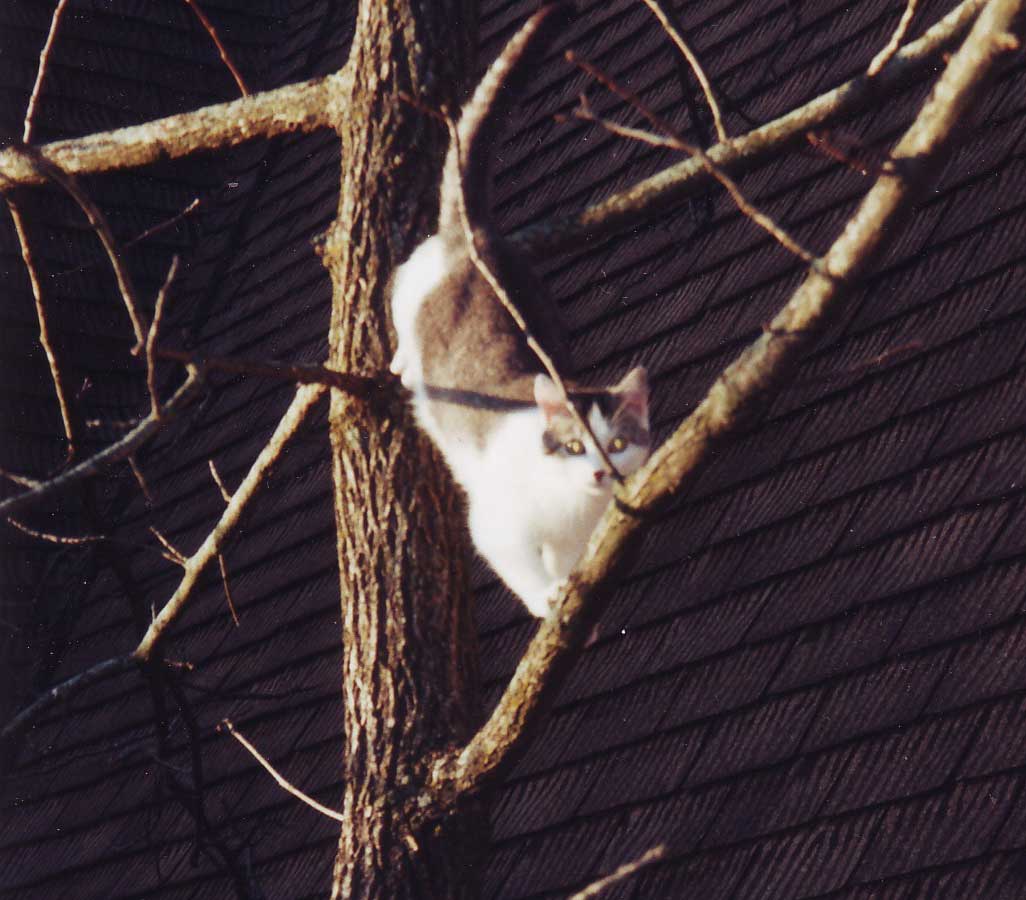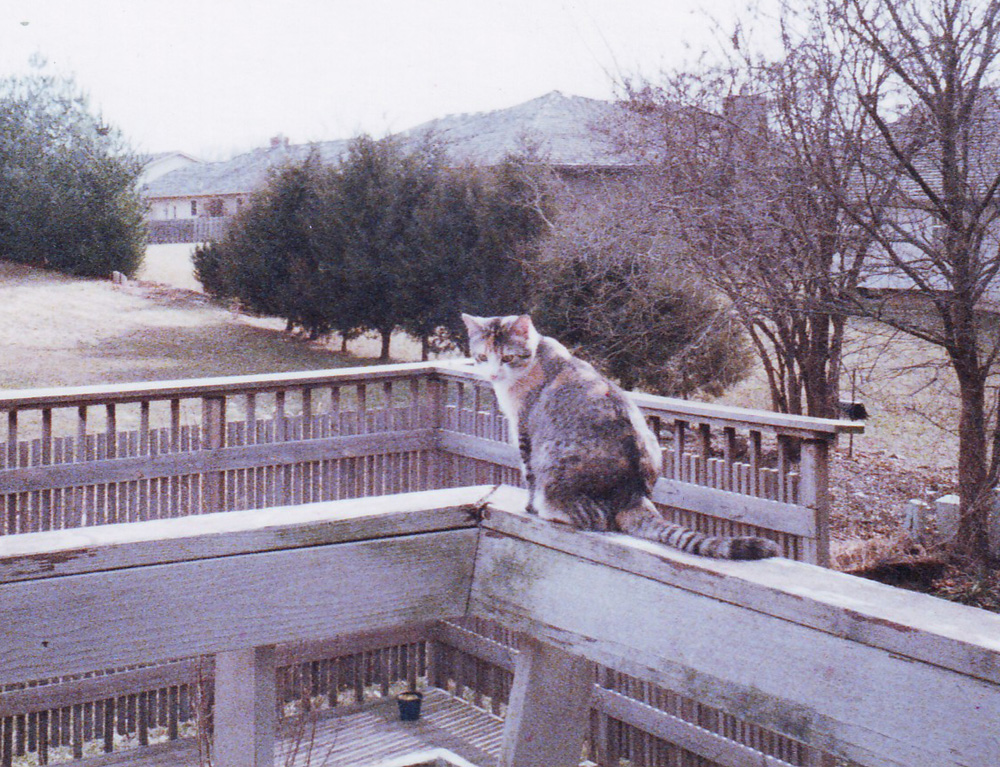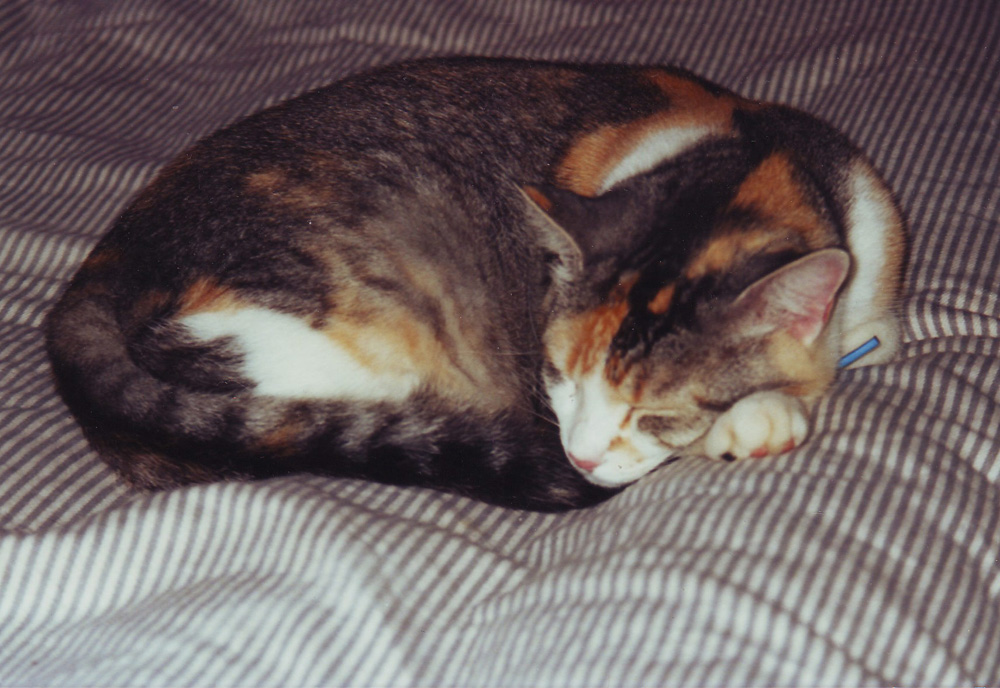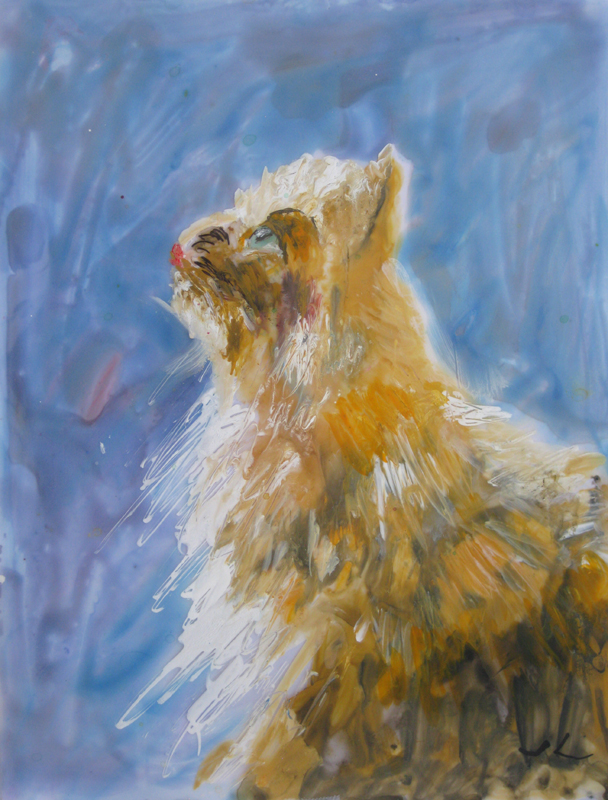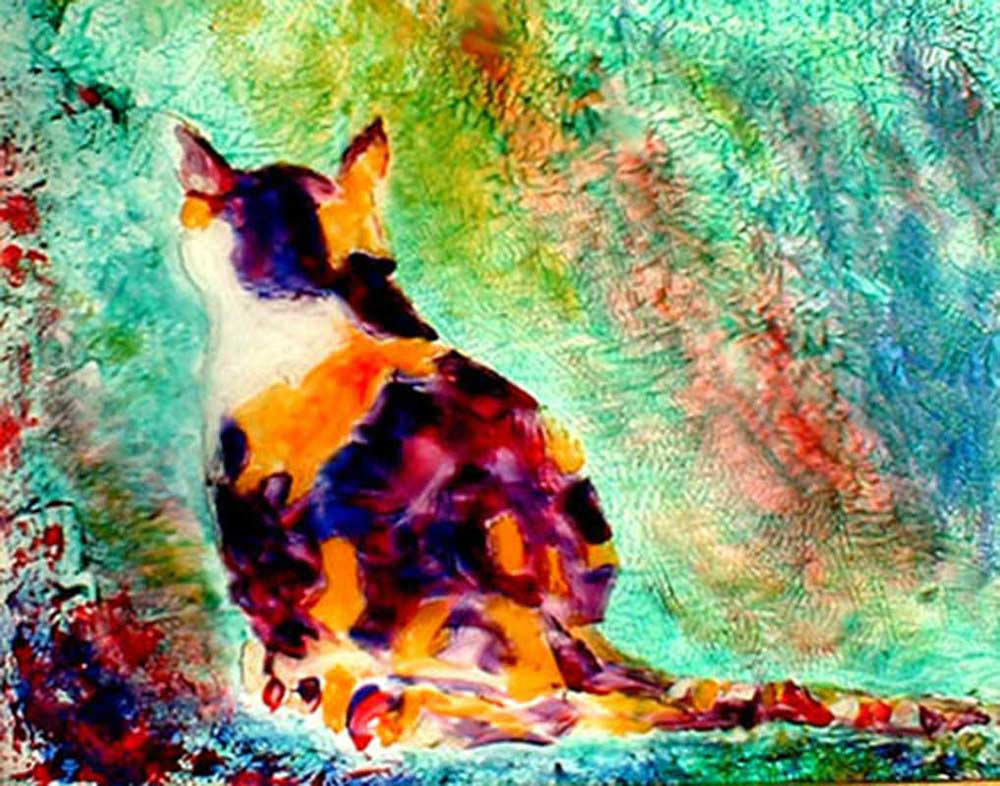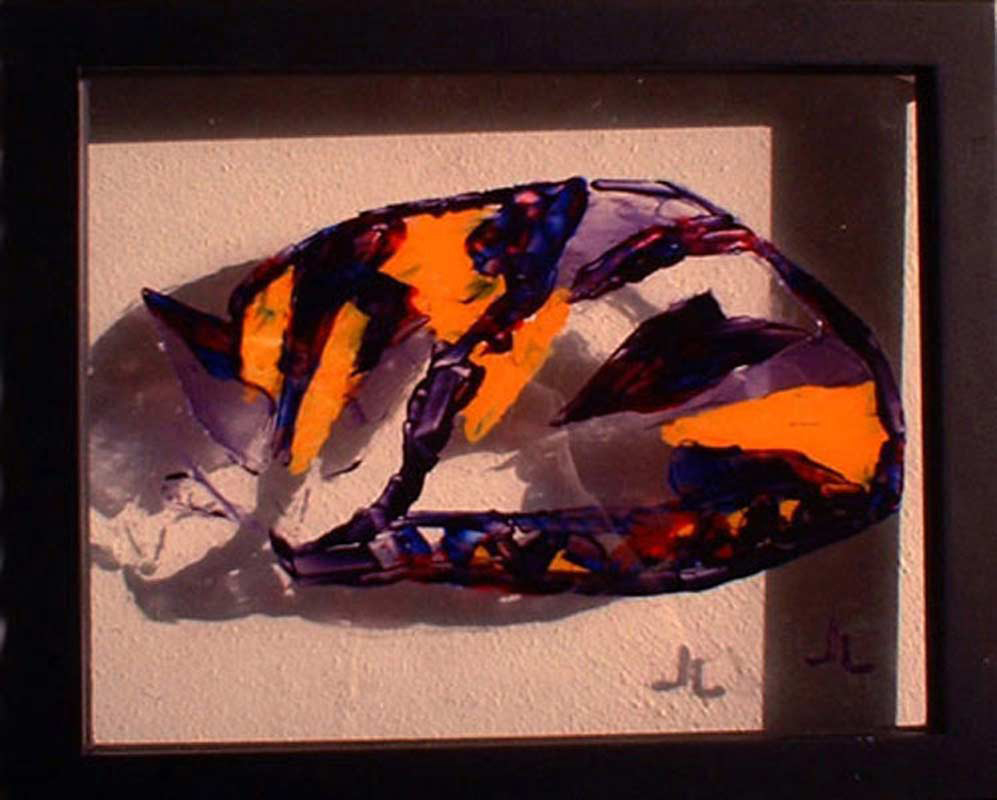 06/01/2015
Oh, gosh, last note was written 6 months ago! I haven't done much except painting. I have been learning painting people. It is more fun than I thought would be.
The best lesson painting have taught me is to see the essence of any subject and truly appreciate the beauty in it. Whenever I try to paint someone or something, I begin to see more clearly. Human face and body are so interesting to look at . So many subtle colors, so many graceful lines and so much energy and spirit in every move!
12/14/2014
It is fun to paint with different painting tools, mediums and surfaces. One of my favorite way to test composition, color and value is to pain with acrylic on small acetate sheets, because these paintings occupy very little space. My friends love them and call them "little master pieces".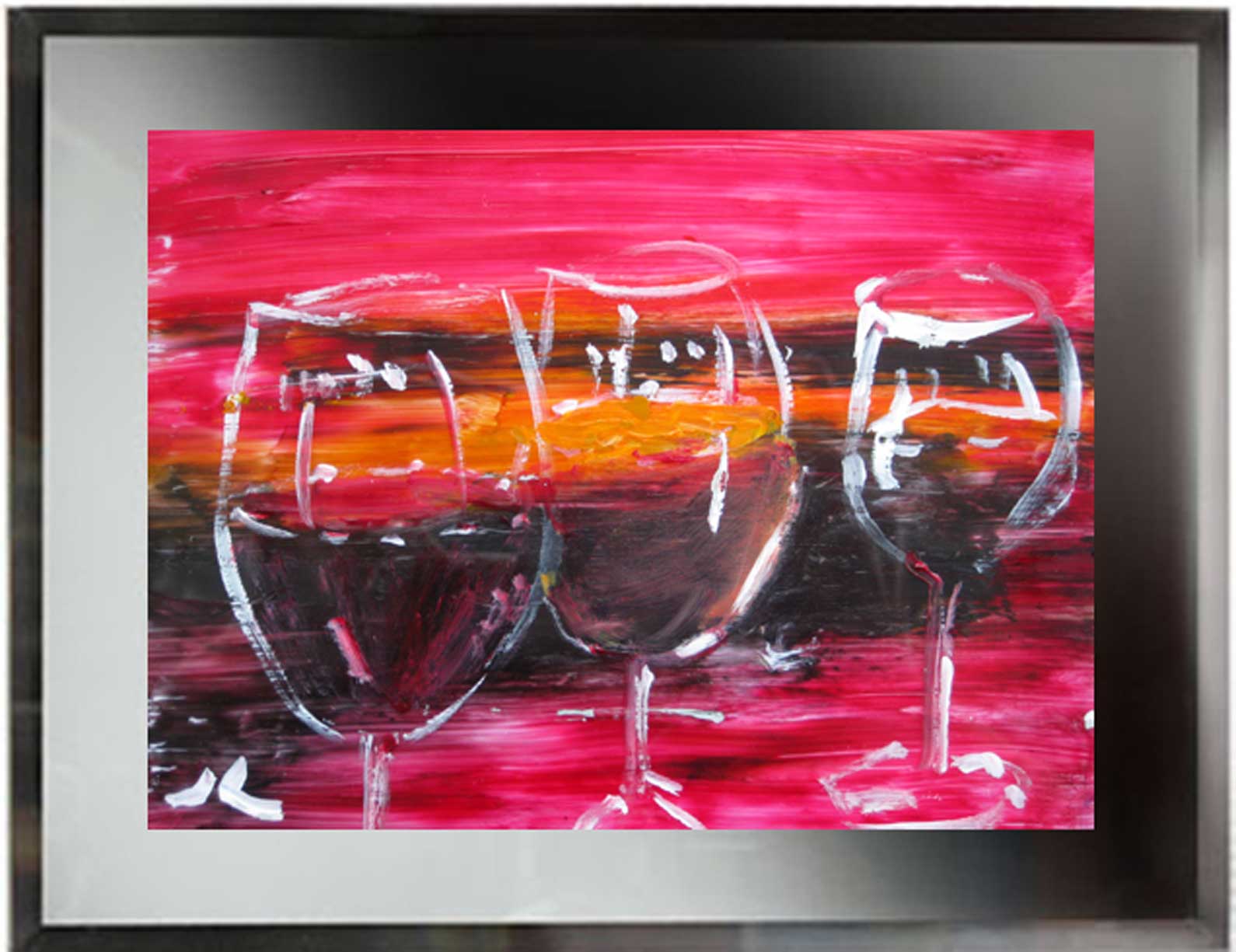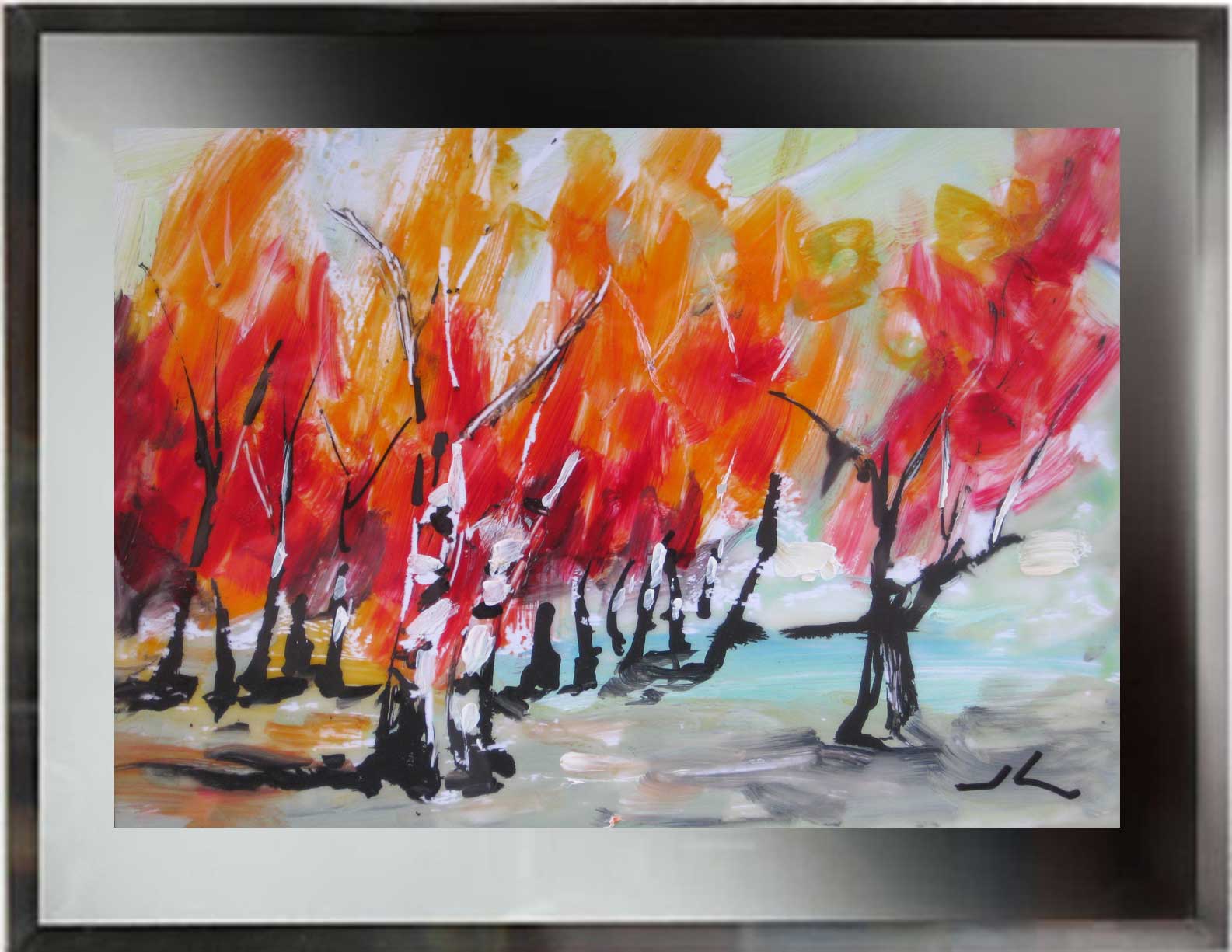 10/29/2014
Went to a charity auction with Neil a couple days ago. It was so formal that every one were in black suits or dress. We did not fit in the party and left before the event ended. Later a friend told us that my painting (Autumn Aspen) caused a sort of biding war and sold higher than the value we listed.
Giving always feels good. Actually the first painting I have ever sold was sold on an charity Christmas auction. I am grateful that I can create and share with others.
07/19/2014
One important lesson painting has taught me is how to see. The more I paint, the more I appreciate everything I see ---trees, flowers, cities, lands, water, and sky. Of course, to see for me means to see with physical eyes or mind's eyes. When I began to paint years ago, my sky was simple and flat. Now I see many subtle colors in the sky and try to capture the richness of the ever changing sky.
07/04/2014
It is time for Denver Annual Art and Crafts Festival. We went there early and I took many photos. To me this is the best opportunity to observe accidental models in groups. Colorful clothes, intrigue gestures, and unpredictable movement are ideal subjects for sketching.
06/24/2014
The reconstruction project forces me to review my work. The process of reviewing and reexamining previous paintings has made me more appreciate those truly original and unique ones. I have begun to understand why some artists collect their own paintings and what priceless means.
I have become more sensitive to the quality of my paintings, and more aware of my own taste. Last weekend, Neil bought me a few pieces of lovely framed glass. I immediately painted on those glass sheets, without even take off the frames. This guitar painting is one of them. I like the colors and almost abstract shapes. It is on the wall of our office now.
06/12/2014
The reconstruction of my website has been progressing smoothly and slowly. The best part is that I have learned a lot about how to simplify the procedure and find the best way to do everything in creating webpage.. The worst part is that I cannot stand repetition. My only comfort is that it will be over soon.
Cannot wait to get back to full time painting ---- with knife, brush, or thought .
06/08/2014
I have begun to use India Ink mainly because it is permanent. It is also more challenging because if you make an unintended mark on the painting surface, you have to leave it there. I love it. I have never liked those "too finished" paintings. Now, with this magic ink, my painting process has become even more spontaneous and free and unpredictable --- perfect for Erfiesm. :-)
i
06/04/2014
This is one of my 1989 Impression Paintings. The title --- The Night of June.
05/29/2014
When I paint, I often wonder : what exactly I am painting? A tree? The shape, color and value of the tree? My perception and impression of the shape, color and value of the tree? The spirit and essence of the tree?
Since everything in this universe are connected, in the same energy field, and came from the same source -- big ban, there is no real separation between the tree I am painting and me. In this sense, I am the tree I am painting. Painting is expressing how I feel at that moment as a tree. If I close my eyes and imagine that I am that tree, I can feel the soil under my feet, the wind kissing my arm and the sunrays showering my body.
A couple years ago, a friend told me: "no matter how you apply the paint, you water always look real." I think she did not mean that it look realistic as in those good realistic paintings, but simply meant that it looks like water to her.
Growing up in a seaside city and spending many summer days on beach, sea water is in my blood. It is much easer for me to imagine I am the water than I am anything else. If I close my eyes, I can be the sea waves dancing to greet the rising sun almost immediately. I can never be tired to be sea waves and therefore I can never be tired to express my sea wave emotions via painting.
05/22/2014
I have been building my museum. It may took longer than I anticipated. Since it is not that I have to build it, but I want to build it, I have had so much fun in the process. From selecting paintings to organizing them to filling each room with selected paintings, I have learned a lot about my own work. It is like a flash review of all the details of the circumstance in which I created these paintings and instant recognition of how I feel about my work.
There are some paintings which fell in love with as soon as I made them, some which I have fallen in love with gradually, and also some which I changed mind about suddenly when coming across them accidentally.
While building the museum, I continue to paint and experiment. Inspired by a dance recital, I painted a dozen of paintings of dancers.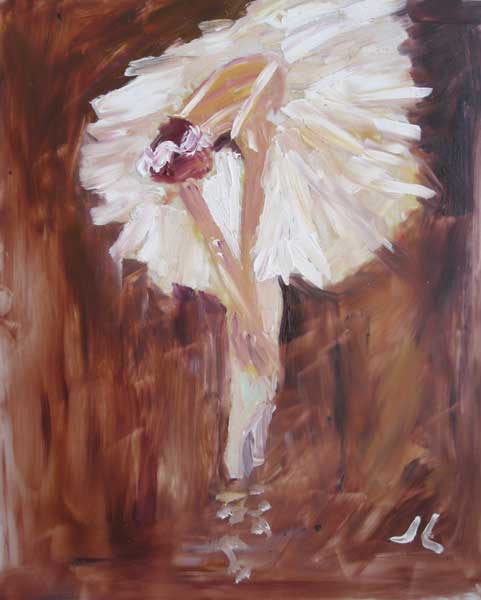 04/15/2014
Picasso said: "Give me a museum and I'll fill it." Somehow I feel the same way. Of course, I am not Picasso, nor I want to be, and I don't know if I will ever be given a museum. Besides, why wait? I am going to build one, here and now, opening to the whole world !!
It is not a physical museum. So what? It would be even better. There is no limit as to how big the virtue building will be. I can organize and reorganize the exhibit without moving hundreds of paintings physically, can add a floor or room with a click, and run my museum at my desk. It will open 24 hour a day and 7 days a week.
It may take a while to put everything in place. I have decided to start today.
02/18/2014
I have been experimenting in several things:
1. Painting oil on acetate, which are my new glass substitute. Of course nothing can really replace glass, but acetate sheets are pretty close. The best thing about them is that they do not break and are easy to store. I can put 1000 sheets on one shelf. Now I can paint as many as I want and never have to worry about space again. :-)
2. Painting ink/watercolor on mulberry paper. It is pure fun! The mulberry paper is much more durable than rice paper and has intrigue pattern.
3. Painting ink/gouache on transparency film, which is intended for laser printer. Unlike acetate sheet, the transparency film can be written on with a ink pen. This is my new adventure. I am still testing its potentials.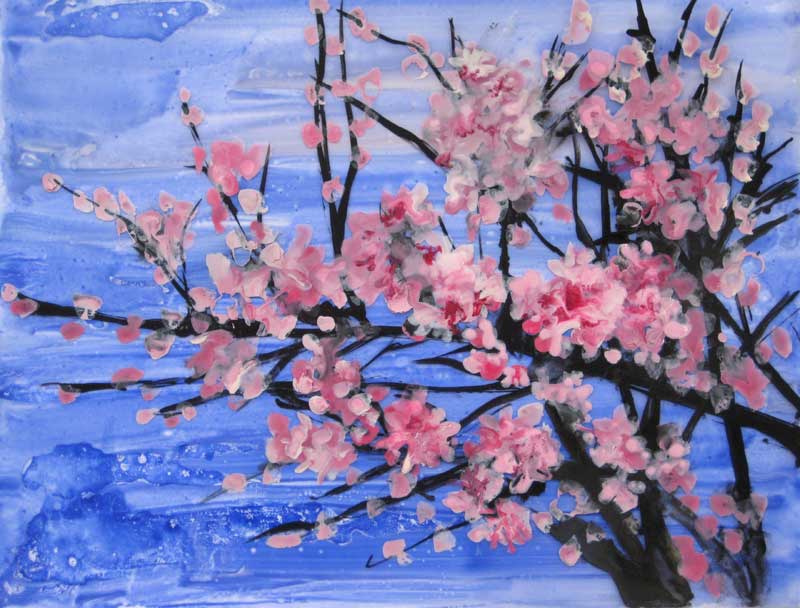 I do not like routines and cannot bear endless repetition. Fortunately, there are so many things I can try.
01/03/2014
If I paint the same subject or paint in same way for a while, I would get bored. I need experiment with different subjects, color schemes, mediums, techniques or surfaces. This is my new fun --- abstract landscape painting with limited palette.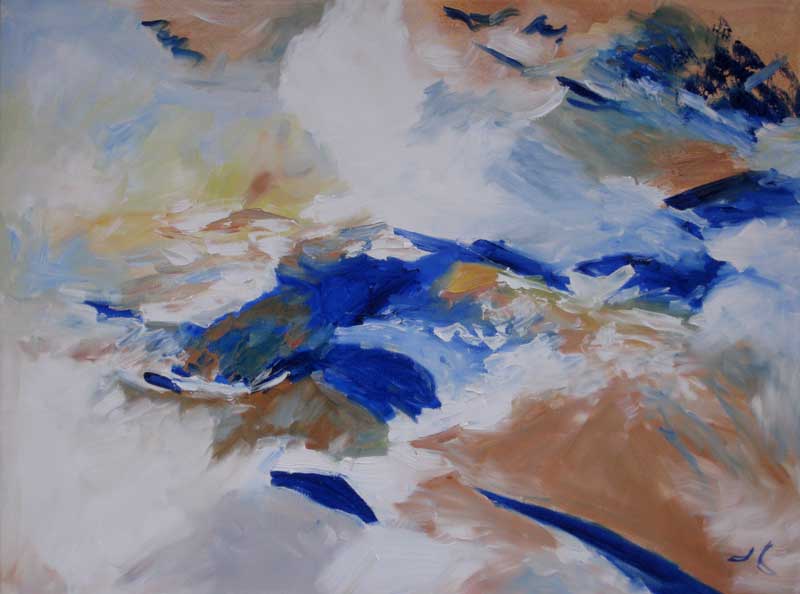 12/30/2013
My friend Suzanna, a dance teacher has moved to Great Junction. I did this painting for her as a gift.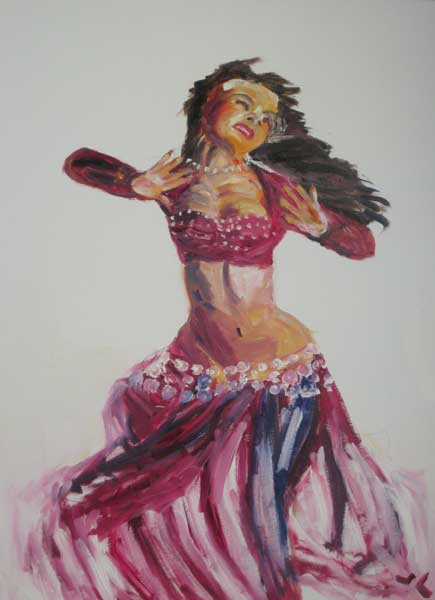 Suzanna, Oil, 18x24"
12/12/2013
I have painted 174 Denver Impressions. http://www.juliapainting.com/2012ART/denverimpression.html
Also, did a set of Green Symphony. I d' like to paint one series for every color! :-)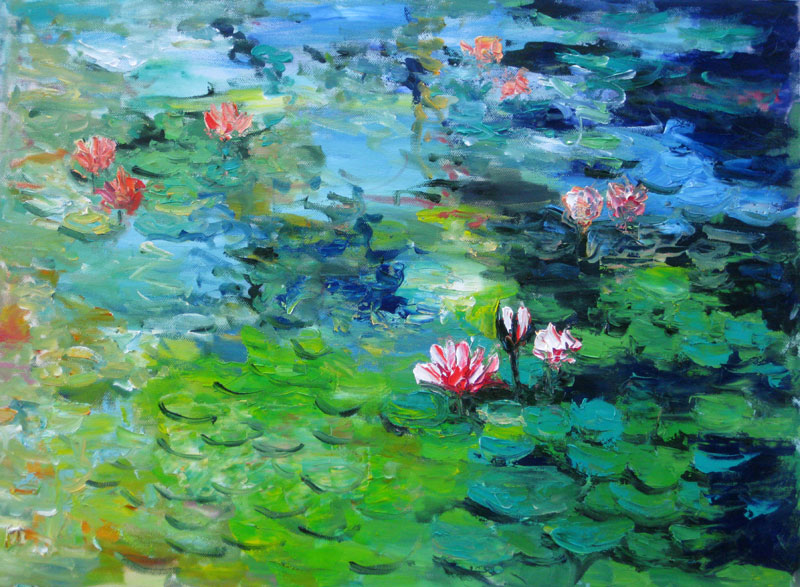 06/22/2013
Gosh, I haven't written a word since last fall. Time flies. One day in last October, I went to see Van Gogh's exhibit, Becoming Van Gogh, and was impressed and inspired.
Van Gogh painted something he was familiar with, and surrounded by. I should do the same. Starting with the flowers, the trees, park, streets, houses, etc I see here, in Denver, paint my way to Le Louvre. :-)
I started painting my Denver Impressions in November, 2012. Now, 7 months and 200 paintings later, I am still working on it.
This is the first part, Denver Botanic Garden Impressions , a 4 minute video of Garden Paintings ---------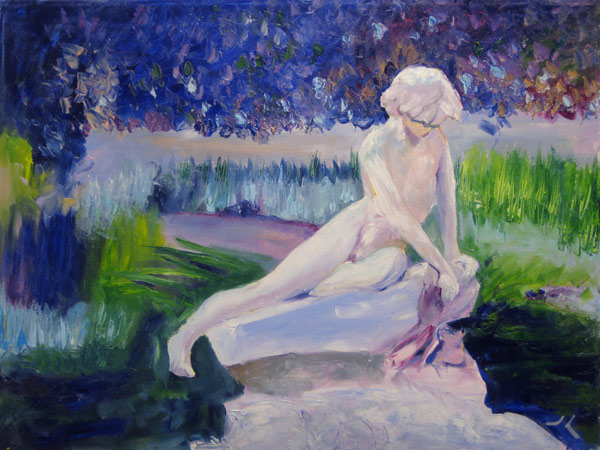 Denver Botanic Garden Impressions
10/26/2012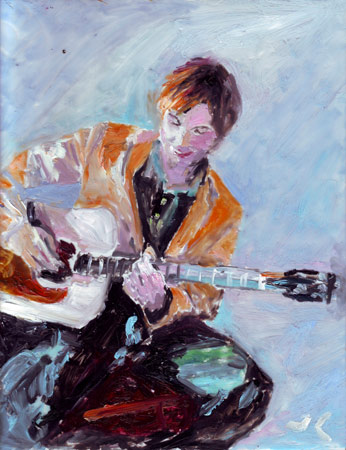 I did this painting for a musician/artist friend, Fred. From his comment "this is one of your best paintings", I know he like it.
Even though I thought about painting more people, almost everyday I end up with paintings of water, land , trees or flowers.
Anyway, I have put a short version of the DVD of my recent long painting of Chinese landscape on this site under Julia Video.
08/30/2012
After painting on canvas for months, I had chance to paint on glass again. This time I appreciate the surface even more. Since nothing can be absorbed by glass, all my brush strokes and knife marks remain their vitality.
Enjoying painting on glass so much, I covered all 10 pieces of glass and mirror in a couple of days.
This waterlily painting is one of my favorites. Since the first time I saw Monet's paintings, I have been wanting to create my own signature waterlily paintings---- expressive, loose, beautiful and absolutely unique.
So far, this one is closer to my ideal than all other warerlily paintings that I have tried. Of course, at any moment, my better one is always the next :-)
Neil has started to work on the video of my Chinese landscape painting on a 93 yard roll. Hopefully I can post it on this site soon.
7/9/2012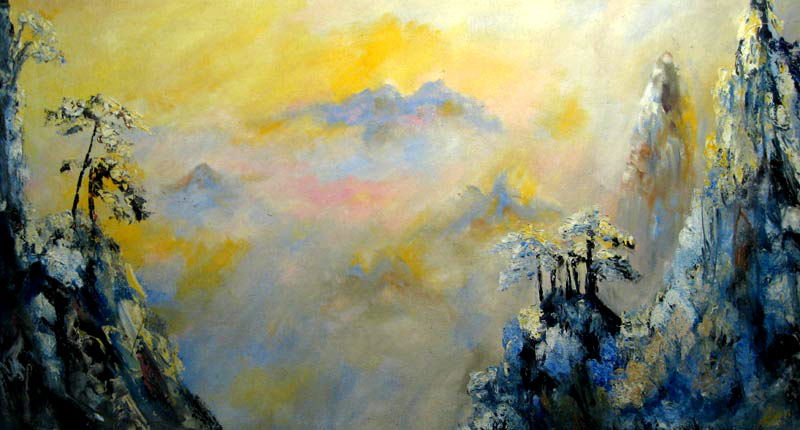 Oh, gosh, I haven't written for so long! I had been working on my long painting for several months and almost forgotten about anything else.
I painted China's landscape. It is not today's China, but the landscape of China in my memory, which has been filtered by time and emotion, and imagination, which is far beyond the reality.
The painting is 93 yard long and 2 feet wide on a 60 pound canvas roll. Neil is going to make a film to show the whole roll.
01/24/2012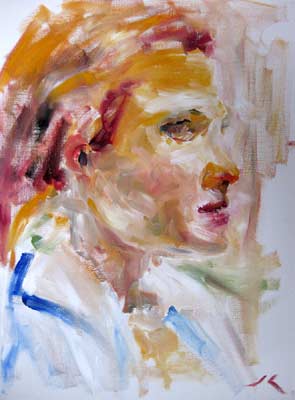 I always love painting nature, because whenever I close my eyes I see the sea waves, snow mountains, trees, and flowers. Lately, I see something else ---- birds, horses, and people.
The expression and movements of people and animals inspire me to paint them.
I wanted to capture the essence and spirit of my subjects in minimum loose brush strokes. It is fun when you not get tangled with details. I treated human face as any other subject, focusing on the variations of shape, value and color.
This is the portrait of Lisa, a girl I met last fall. I mo not sure if she would like the painting, though.
I will continue to learn portrait painting by painting, painting and painting. Picasso created 93000 paintings in his life time. I have a long long way to go.
01/13/2012
This was the Mount Yellow (Huangshan) I saw in my dream. Huangshan is a mountain range in eastern China, known for its sunrises, odd-shaped peaks, pine trees and views of cloud floating between the peaks.
When the mountain is covered with snow, it becomes even more magnificent.
01/03/2012
Even though I was from China, I discovered the beauty of Chinese abstract ink painting in US. It was here, in Denver, I saw the work of a great Chinese painter in person for the first time.
Inspired by the ink painting, I have been experimenting with round painting brushes, which look like those that Chinese painters use for their ink painting.
This painting was entirely "written" with one round brush. The paint I used was Genesis artist oil colors, which I have been experimenting for months. I enjoy their unique qualities --- non toxic, stay wet and dry on demand.
Using non toxic paints, I do not have to worry too much about harming myself or others, or feel guilty because putting more toxic things on Earth. Since the paints stay in wet, no cleaning palette or brushes is necessary --- saving so much time and energy! And the paints dry on demand! It means that I do not have to constantly looking for places to store wet paintings. Simply putting the finished painting in oven or grabbing my heat gun, I can dry a medium size painting in minutes.
12/13/2011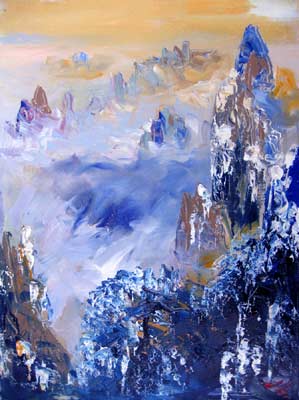 Last Saturday, we visited the exhibition of a famous Chinese painter, Xu Bei Hong, at Denver Art Museum. I like his abstract ink paintings, especially the landscape painting. Unfortunately, there were only one at the show.
Inspired by the ink painting, I did this snow mountain with brush and knife. It was an exciting event. I can feel the energy flow through my arm and hand --- I had to paint to let it out!
I like the abstract quality of the painting. I was never crazy about over finished paintings or paintings having too much details or just like a photo or works that do not have much personality. I like the paintings full of originality and creative energy and covered with expressive brush strokes and in pleasant colors. And that is I will try to paint!
12/07/2011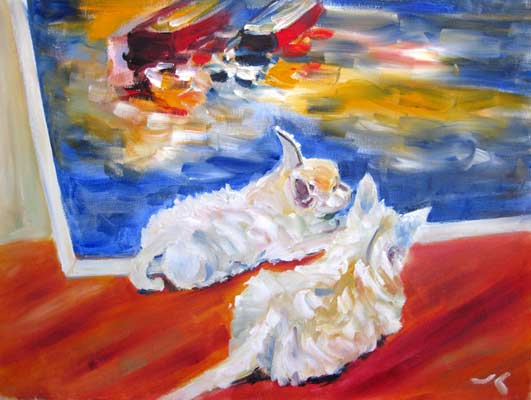 A few months ago, when we drove more than 1000 miles to pick up Erfie and Chloe, the Westie twins,my husband was convinced that they were the rebirth of our old rescue dogs, Erfie and Chloe. I was skeptical.
Now I can see it. Chloe exhibits a unique personality which is distinct from Erfie's, but similar to old Chloe's. Erfie seems like his old self, too. Both of them love to look at my paintings, especially the ones on the floor.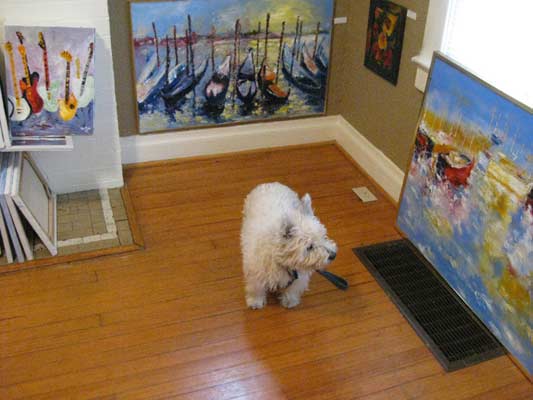 Old Erfie, 2010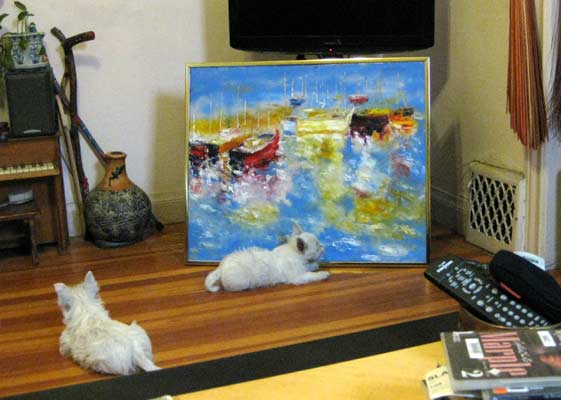 Erfie and Chloe, 2011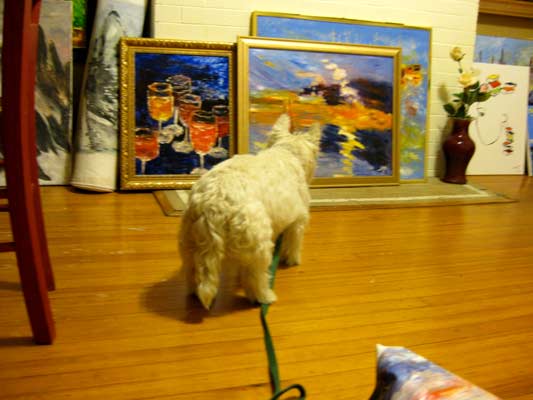 Old Erfie, 2010
11/27/2011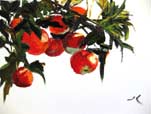 I know that the block-in has been taught in art school as a necessary phase in creating an oil painting. Since I did not go to art school, I do not have to follow this rule or any other rule. :-)
I love the white negative space. It makes the subject more pronounced, increases the value range, and leaves room for the viewer's imagination.
I tried a few different versions of this painting and I like this one much better.
11/22/2011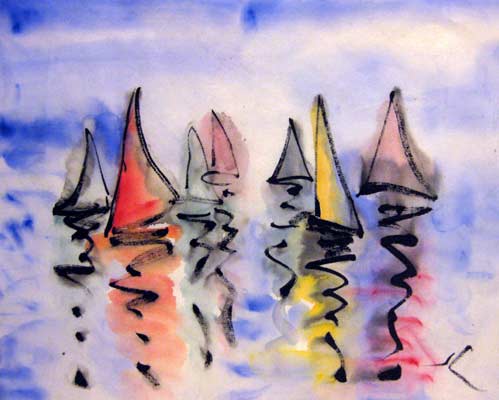 I began to sketch with watercolor/ink on rice paper a few months ago when I was preparing my summer exhibition in a local gallery. It has become one of my favorite things to do in the evening while listening music or watch film.
Now this kind of sketches are everywhere in my house. I am thinking about to put some of my favorites on the website in near future.
I love sailing boats and have sketched many of them. This is one of them I did this evening.
110/04/2011
I had never painted bicycles until two days ago when a few bicycle in our back yard caught my attention. The morning light passed the bicycles and threw intrigue shadow on the grass, giving ordinary bicycles a magic makeover.
09/27/2011
Most time I paint oil with a palette knife. This morning I wanted to use brush because I want to capture the contour of pears more accurately. I put all my pears on a table in our backyard under the morning sun and tried to choose three for an autumn color study. It is hard to decide because they are all different in shape, color, and personality. So I painted each of them. In the company of all others, of course.
It is wonderful experience. Perhaps painting with knife make brush painting a relaxing exercise. I truly enjoyed the process and like the result, too.
09/26/2011
This summer, there were more flowers in Denver Botanic Garden's waterlily pods then ever. Since we walked there almost every day, I decided to paint a series of summer waterlilies. Before I completed my series, however, the flowers were almost all gone. I caught some of their last dance this morning. Even though fading away, waterlilies still remain their grace and beauty. This is one of the paintings I did today.
09/20/2011
Responding to DWP"s value challenge, I did two value studies a few days ago and learned a lot in the process. Value, perhaps more than anything else, makes a painting stand out. I must pay more attention to value contrast when I design my future paintings.
Once upon a time
09/23/2011
I was never crazy about routines and had hard time to keep doing anything regularly. Of course, except sleeping, eating and painting. Blogging daily is a challenge for me. I started a blog site about a month ago, but gave up after a few posts. Now with this site, I intend to keep writing — at least a few times a week.
I began to paint sketches on rice paper with watercolor and Chinese ink about three months ago when a friend suggested that I should prepared some simple painting or drawing for the visitors to my local summer exhibition. It was so much fun! I have been doing watercolor/ink sketches on rice paper ever since. Some sketches serve as draft for my oils.
When I was facing the DPW challenge posted last Saturday, I decided to do a simple watercolor painting on rice paper. I did not want to painting in oil because I paint oil with a palette knife and my spontaneous and direct approach is very different from the drawing then filling method the challenger instructed.
I like the soft edges of the flower and the natural color variations created by the unexpected mingle of the watercolor paints and water.